Whelping Kit 1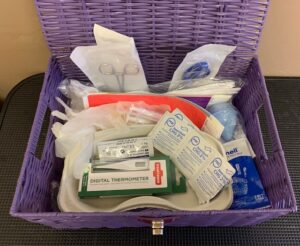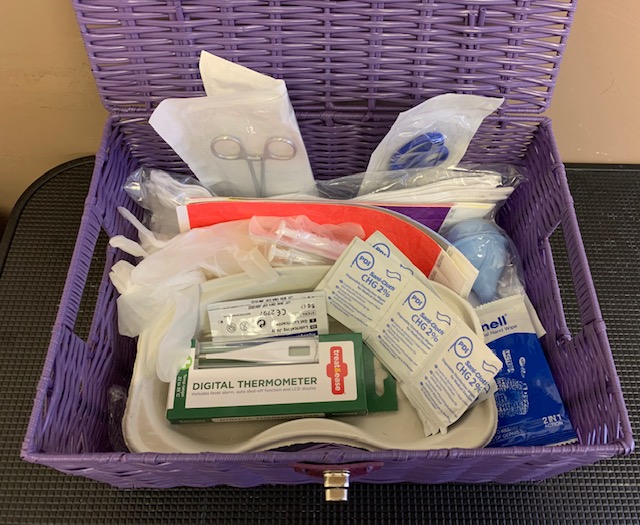 Comprehensive Whelping Kit £38.00
Boxed Contents:

1 x Sterile Stainless-Steel Scissors – Cutting cord should you need to
10 x Sterile Alcohol Wipes — Clean instruments in-between use. Contains chlorhexcidine which gives added protection killing germs after the alcohol evaporates.
1 x Sterile Stainless-Steel forceps – Clamping of the cord before cutting.  should it be required.
2 x 5g Sterile Lubricating jelly sachets – Help loosen the puppy/kitten when delivering and to lubricating the thermometer during temp checks.
1 x Kidney dish – keeping all instruments together and to hand and/or putting placenta's in after each puppy
1 x Digital Thermometer and plastic case to keep clean
1 x Sterile Bulb aspirator – Suck out fluid from puppy's nose and throat.
42 x Tyvek Bands (Paper like Material) – Easily identify puppies and kittens, Width can be cut in half to make two bands for smaller/younger breeds or even joined together for larger/older puppies.
2 x Sterile Syringes (Sizes vary) – Feeding fluids/Milk to mum or puppy/kitten if needed
1 x Clinell Antibacterial Hand Wipe (Alcohol Free) Clinell hand wipes can be used effectively on soiled hands to remove dirt as well as sanitising. Wipe Size:  20cm x 20cm
5 x Small white cotton towels for whelping and rubbing up pups
2 x pairs of vinyl gloves (medium)
1 x So you've bred your bitch: Now what? book
Whelping Kit 2: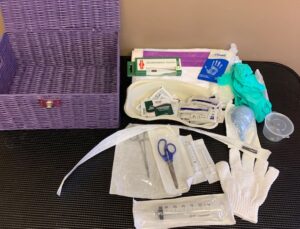 As above plus stuck puppy assistance pack £54
Additional Contents:
1 x Catheter
1 x 60ml Syringe to fit catheter
6 x 5g Lubricant Sachets
1 x Grip Glove
1 x Small Pot
1 x Small white Towel
2 x Absorbent Pads
2 x Pairs of Vitrile Gloves (Large)
Extra 500ml of lubricant £8
Breeder Documentation
Available as a basic (generic) pack or a custom designed pack with logo/images of your choice.
The Basic pack includes PDF's for you to print and complete:
Certificates & Contracts (5 documents)
5 generation Pedigree Form
Puppy Pack Documents for your new puppy parents (8 documents)
Useful Information (6 documents)
Whelping Records (8 documents)
plus a useful set of questions that you may get asked by prospective purchasers
The custom pack includes all of the above but in Word Format and with logo/images of your choice added to the Pedigree Certificate and watermarked on all documents.
Basic PDF pack £50 electronically
Custom designed pack £80 electronically