A Brief Guide to Whelping
See our SHOP page for whelping supplies or scroll down
Labour
Assuming you have everything to hand, whelping box set up etc, you may wish to call your vet to let them know your dam is in whelp. You may not need a vet but it would be useful for them to know that they may need to be called upon.
Make sure you have a pen and paper ready to record everything that happens. If you should have to go to the vets, then this accurate account of the preceding events will be useful to help the vet best treat your dam. All things considered, you know your dog better than anyone and if you think something is wrong you should seek assistance. This may not necessarily mean a C-section, sometimes a shot or two of Oxytocin can help the delivery along; if a puppy is stuck however, then a c-section may be the only option.
A slow labour can begin and take 48 hours, but more usually 12 or so hours will be first stage. This is when the pups are readying themselves for birth. Stage 2, Active Labour, when the pushing begins can take from 10-40 minutes for each puppy. If you dog has been actively pushing for more that 40 minutes without expelling a puppy then it may be wise to seek advice or assistance.
See our page on The Whelping Pause for more information if things slow down a little and you know there are more pups to be delivered.
What to do when a puppy is born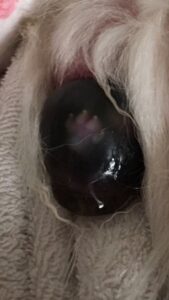 Some dams will instinctively take care of all that is required for the new born puppy, some do nothing and some will act aggressively towards them. The following information is for the latter 2 groups of dams.
The pup appears at the vulva as a bulge which progressively is expelled with each push the dam gives. The puppy will be born – with or without a sac, normal presentation is feet first, sometimes a head or tail may be in view and these may take a little longer to expel. If a puppy that has presented head or feet first is stuck, the seek advice from your vet or other competent person such as your mentor.
The puppy has been born, what to do now?
Break the sac or sacs and clear the nose and mouth of fluids and any other debris.
Using haemostats, pinch and cut the cord, leaving about 1.5cm from the puppy's belly.
Pick the puppy up and wrap it in a clean (preferably white) towel. Holding the puppy with head tilted downwards (to help drain any fluids), rub the puppy vigorously, not too hard, and this will help stimulate breathing. Clear any fluids form the mouth and nose frequently as you continue to rub the pup.
Carry on rubbing up the puppy, it should now be crying and you need to dry him off as much as possible. An unresponsive pup can take up to 45 minutes to get going, so don't give up too soon.
Depending on the state of play with the arrival of the next puppy, if there is no sign then offer the puppy to the dam's teat. If the next puppy has already presented, then place the pup already born into a warming box and tend to the next arrival. I do this with every puppy at the signs of the next puppy's arrival, to ensure they are in a safe place for when the next puppy arrives and to prevent any accidents.
Check the pup over for any defects, including cleft palate, and make sure the umbilical cord has stopped bleeding. If it has not, then use the haemostats to clamp it off again for about 15 minutes, or tie it off with dental floss. Check again to see if it has stopped. Repeat as necessary.
Record birth time, weight and sex of the puppy. Also make a note of whether the placenta has been seen. Remember for each puppy you should see a placenta. It is ok for mum to eat the placentas but make sure to note down that the placenta has been seen. The placenta will not always come with the puppy, but may follow after another puppy has been born.